News
PRESS RELEASE LAUNCHING OF THE WORLD INVESTOR WEEK 2022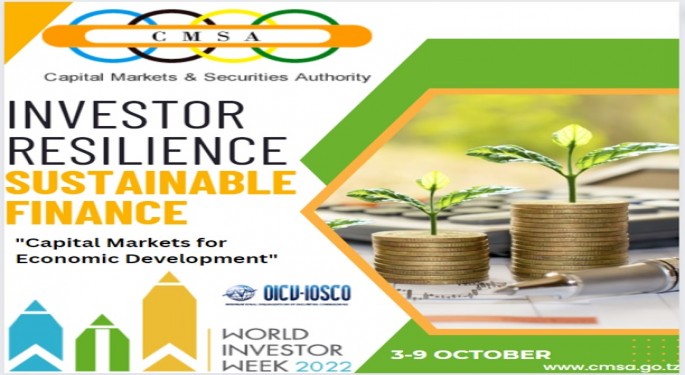 PRESS RELEASE
LAUNCHING OF THE WORLD INVESTOR WEEK 2022
The Capital Markets and Securities Authority (CMSA) is a regulatory Authority established by the Capital Markets and Securities Act Chapter 79 R.E. 2002 of the Laws of Tanzania with the responsibilities among others, to develop, promote and regulate the capital market in Tanzania.
The CMSA and the International Organization of Securities Commissions (IOSCO), the Global Standard Setter for capital markets are collaborating with other capital market regulators worldwide in participating in a World Investor Week (WIW) from 3rd to 7th October 2022. The WIW is a global campaign to raise awareness about the importance of investor education and protection by highlighting various initiatives of capital market regulators in these two important areas.
The WIW involves all IOSCO securities regulators and other IOSCO members on six continents providing a range of activities, including launching investor-focused communications and services, promoting contests to increase awareness of investor education initiatives, organizing workshops and conferences, and conducting local/national campaigns in their own jurisdictions. The WIW offers a unique opportunity for IOSCO members to work in collaboration with all stakeholders at National, Regional and International levels. The theme for this year campaigns is "Investor Resilience and Sustainable Finance"
The WIW 2022 is expected to increase public awareness on the opportunities and benefits of using capital markets in Tanzania in "Realizing Competitiveness and Industrialization for Human Development". The WIW also aims at increasing investors' participation in the capital markets thereby facilitating implementation of the National Financial Inclusion Framework and National Financial Sector Development Master Plan.
The participation of CMSA in the WIW is also enshrined on the vision of the Sixth Phase Government under the noble leadership of Her Excellency Samia Suluhu Hassan, President of the United Republic of Tanzania, which aims at creating enabling environment for development of the financial sector for spurring economic development and growth in the country.
In its endeavor to commemorate the WIW, CMSA will undertake various activities focusing on awareness, accessibility, usage and protection of investors interests in capital market from 3rd to 7th October 2022. This programme aims at enhancing knowledge about capital market and thus contributes to the National agenda of improved financial inclusion and economic development.
CMSA in collaboration with key stakeholders has launched the campaign on 3rd October 2022 at 10:00am at the CMSA offices.
Wishing all our stakeholders fruitful participation in the World Investor Week.